Night Driving Tips for Truckers
Nighttime driving presents a distinct set of challenges for truck drivers. Reduced visibility, fatigue, and the potential for unexpected obstacles can make the road less forgiving after dark. To ensure your safety and the safety of others, it's essential to be well-prepared for night journeys. In this guide, we'll explore top safety strategies for truck drivers when navigating the night.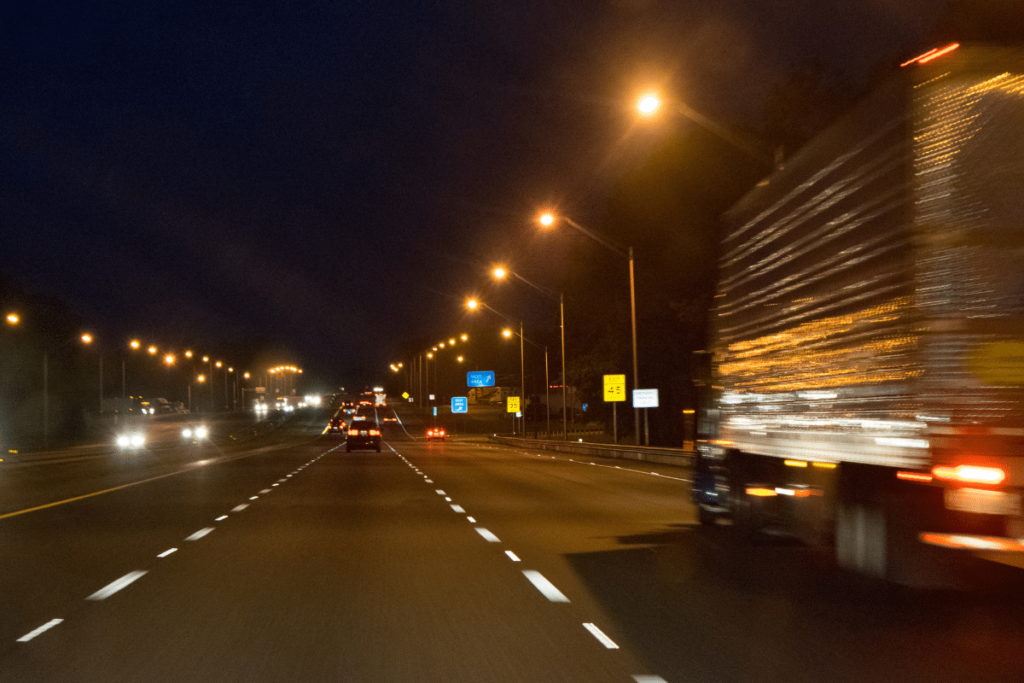 Prepare Adequately
Well-Rested Start: Begin your nighttime journey well-rested. A good night's sleep before hitting the road is crucial to combat fatigue.
Scheduled Breaks: Plan regular breaks during your route to rest, stretch, and stay alert. Fatigue can set in quickly during the night, so listen to your body and take breaks as needed.
Healthy Snacks: Keep healthy snacks and water within reach to stay energized and hydrated throughout your trip.
Optimize Visibility
Clean Headlights: Ensure your headlights are clean and properly aligned. Dim or misaligned headlights can drastically reduce your visibility at night.
High Beams: Use your high beams when appropriate, but remember to dim them for oncoming traffic. High beams can provide better visibility, especially on dark, rural roads.
Clear Windshields: Keep your windshield clean inside and out. Glare from dirt or smudges can hinder your vision at night.
Defensive Driving
Safe Following Distance: Maintain a safe following distance from other vehicles, allowing ample time to react to sudden stops or maneuvers.
Anticipate Hazards: Stay vigilant and anticipate potential hazards. Watch for wildlife, pedestrians, and road signs.
Weather Awareness: Stay informed about weather conditions along your route. Rain, fog, or snow can intensify nighttime driving challenges. Adjust your speed and following distance accordingly.
Minimize Distractions
Hands-Free Devices: Use hands-free devices for phone calls and avoid multitasking while driving. Minimizing distractions is crucial for nighttime focus.
Proper Glare Management: Adjust your rearview mirror to its nighttime setting to reduce glare from headlights behind you. Utilize your sun visor as needed.
Stay Alert: Fight fatigue by staying mentally engaged. Listen to music or audiobooks to help you remain alert during long nighttime drives.
Vehicle Maintenance
Regular Inspections: Conduct regular inspections of your vehicle, including brakes, tires, and mirrors. Ensure all equipment is in good working condition to prevent malfunctions on the road.
Emergency Kit: Carry an emergency kit that includes essential tools, a flashlight, and first-aid supplies. It's better to be prepared for unexpected situations.
Route Familiarity
Plan Your Route: Familiarize yourself with your route before starting your journey. Knowing the road's layout, potential hazards, and rest areas can help you make informed decisions and reduce stress during nighttime travel.
Stay Safe at Night on the Road
Nighttime driving as a truck driver can be safer and more manageable by following these top safety strategies. Your preparedness, vigilance, and commitment to safety are key to navigating the night successfully.
For reliable towing and assistance during nighttime emergencies in Atlanta, GA, and the surrounding areas, trust Patriot Towing. We're available 24/7 to assist you.